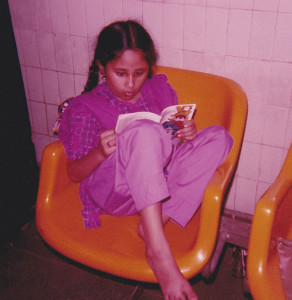 I was born in Bangalore, India and immigrated to the U.S. with my parents when I was a baby. We moved around, but I grew up mostly in Louisville, Kentucky.
I attended Harvard College, Harvard Medical School, and trained in Internal Medicine at Massachusetts General Hospital. I've been working as a primary care physician since 2001. I live in eastern Massachusetts with my wonderful husband, our two brilliant kids, and an impossibly cute dog.
I've always been an omnivorous reader – cereal boxes, comic books, fortune cookie fortunes, magazine articles, and, of course, novels. The books I read as a child helped shape who I am today in ways that I'm still discovering. Books inspired me to pursue medicine as a career; books made me yearn to live in different worlds; books helped me consider what it was like to walk in someone else's shoes.
I did a lot of creative writing during high school and college, but the demands of medical school, residency, and motherhood made that part of me recede into the background for a while. Inspired by an author I met in a bookstore, I signed up for writing classes, both online and in person. With the support of some lovely writing friends, I've kept writing, often things that surprise me. I'm a member of SCBWI, Grub Street in Boston, The Writers' Loft in Sherborn, MA, and the 12 x 12 picture book community. I believe in diversity, particularly in children's literature.
I'm currently writing picture books and middle grade novels, and I believe there's a YA novel lurking in my subconscious. Some of my books explain medical topics to kids; some reflect my experiences as an immigrant, book nerd, foodie, and mother.
And that's just the beginning of the story…