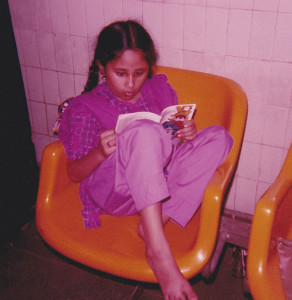 I was born in Bangalore, India and immigrated to the U.S. as a baby. My family moved around, but I grew up mostly in Louisville, Kentucky.
I attended Harvard College and Harvard Medical School, and trained in Internal Medicine at Massachusetts General Hospital. I've been working as a primary care physician since 2001. I live in eastern Massachusetts with my wonderful husband, our two brilliant kids, and an impossibly cute dog.
I've always been an omnivorous reader – cereal boxes, comic books, fortune cookie fortunes, magazine articles, and, of course, novels. The books I read as a child helped shape who I am today in ways that I'm still discovering. Books inspired me to pursue medicine as a career; books made me yearn to live in different worlds; books helped me consider what it's like to walk in someone else's shoes. I still love realistic fiction with puzzles or riddles (like The Westing Game), realistic fiction with a touch of magic (like A Wrinkle in Time), and full-blown sci-fi and fantasy (like The Chronicles of Narnia and the Harry Potter series). I also love anything to do with Shakespeare. I believe that promoting diversity in children's literature makes the world a better place.
One of the best things about writing for kids is meeting other people who write for kids. I'm a member of SCBWI, Grub Street in Boston, The Writers' Loft in Sherborn, MA, and the 12 x 12 picture book community. I'm a proud Pitch Wars 2017 alum.
I'm represented by the marvelous Brent Taylor of Triada US.
I'm currently writing middle grade novels and picture books. Some of my books explain medical topics to kids; some reflect my experiences as an immigrant, book nerd, and foodie. And some are just ideas that pop into my head and won't go away.
And that's only the beginning of the story…